By Presidential Order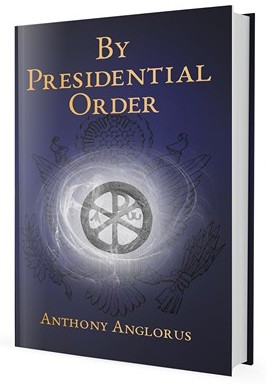 The latest work, which is titled "By Presidential Order", concerns an overbearing zealot as U.S. President and the beginnings of time travel. Oh, and Jesus Christ. For the immediate future, I shall be focussing my efforts on bringing this to the attention of the reading public.
Work in progress
I have four works either started, drafted or planned.
1. "Not in my Beer". I wrote this novel twenty years ago. It has never really left my computers, but now it does need to be fiercely edited and rewritten to make it into a viable novel - it feels somewhat dated.
2. Sequel to "The Other Robin Hood". This is shaped and indeed started. If interest in the original grows enough, I shall continue and complete the work, but it does require significant travel to complete the research.
3. Sequel to "The Prince of Prigs". Again, shaped and started, indeed probably 20% written - but put on hold indefinitely.
4. The consequences of the latest work, 'By Presidential Order', are that I inadvertently found myself with an efficient and easy form of space travel. I am currently drafting a storyline concerning this, corporate corruption and global warming.